The Rainforests - The People
The Rainforests
> The People
There are roughly 45,000,000 - 50,000,000 indigenous people living in the Rainforests but some of these tribes are dwindling due to the destruction of the Rainforest and with climate change causing droughts, many indigenous people are dying because of lack of food and western disease that have infected their 'closed' ecosystem.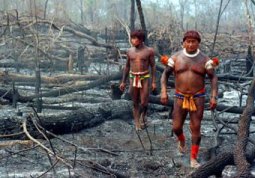 Photo supplied by Mark Elsis (www.rainforests.net)
Some of the tribes are listed below but there are many more;
The Huli live in the remote regions of Papua New Guinea.


The Pygmies live in the Rainforests of Central America.


The Yanomami live in the Rainforests of South America and is one of the most famous. Sting, the musician, helped publicise the problems that were facing these indigenous people in the 1990's as their land was being taken and destroyed by the western logging companies. At risk were the Yanomami' homes and their history. The land was recognised by them as they were the keepers of this part of the Rainforest. The land was nearly taken from them by corporate lawyers until Sting stepped in, and with all the publicity that it attracted, the land once again became theirs.


The Huaorani live in the Amazon Rainforest in South America and constantly fight for their land against loggers and oil exploration.


A list of other tribes in the Amazon are - The Kayapo Indians, The Parakana Indians, The Arawete Indians, and The Assurini Indians

---
Document last updated on Wednesday 01 August 2018

Copyright Save Our Earth © 2001-2019
Copyright of articles, information and news remains that of the owner, and permission must be obtained.

---