Environmental, Campaign & Website News
> Campaign Report - Signature Delivery to Downing Street
Campaign Report - Signature Delivery to Downing Street
Date : 28th Mar 2002, Source : SOE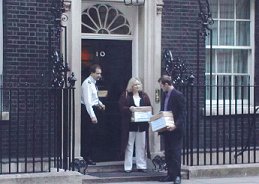 Downing Street
Here we go! It was a tiring night as we prepared the boxes and created the CDs with the signatures. A late night left us feeling tired again! (We always do this!) We left early and got to London just after 10:00am. A quick rest in Parliament Square and we headed off to Downing Street.
We waited until 11:00am and then the Police officers let us in. After the security checks, we walked up to the famous No.10 door. A policeman then took a picture of us on the doorstep and we handed the petition signatures over. My father who works for Italian Television was there to cover it and after leaving Downing Street, we did a quick interview.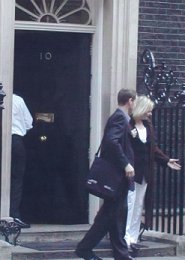 Mission accomplished!
And that was it. We then visited a local pub for a drink and a bite to eat. It was later that we realised the picture the policeman had taken didn't come out - Doh! Luckily, a colleague of my father had taken some pictures, which meant we had at least something to show our visitors!
We have now delivered 5,245 signatures to Tony Blair, the British Prime Minister, to call for an end to the destruction of the Rainforests, ahead of the Ancient Forests Summit in April 2002 in The Hague, Netherlands. We will see what transpires then...
Mark.
---
Document last updated on Wednesday 01 August 2018

Copyright Save Our Earth © 2001-2018
Copyright of articles, information and news remains that of the owner, and permission must be obtained.

---