Environmental, Campaign & Website News
> Letter Campaign
Letter Campaign
Date : 9th September 2002, Source : SOE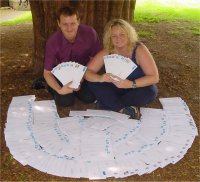 Mark, Denise & the Letters
On 18th July 2002, we sent out letters to all 194 countries of the World, asking them for immediate action to save the rainforests at the Summit for Sustainable Development in Johannesburg in August/September of this year. A letter was also sent to Kofi Annan. We will set up a page with the responses of each country to keep you informed what your country is willing to do to save our Earth.
To coincide with the letters, we have decided to redesign our website and offer new features to you. The time has come for change, and all of us have a part to play in it. The time for talk has finished and the time for action has begun.
To this date, 9th September 2002, we have received letters from :
Bolivia

Brazil

Denmark

Malta

Mozambique

Spain

Taiwan

Well, thats 7 countries out of 195 (including the United Nations). Does this show that only 7 countries consider it worthwhile to reply and care about the environment or does this show that the other 187 countries are taking action first? We will wait and see.
Mark & Denise.
---
Document last updated on Wednesday 01 August 2018

Copyright Save Our Earth © 2001-2018
Copyright of articles, information and news remains that of the owner, and permission must be obtained.

---