Environmental, Campaign & Website News
> Campaign Report - Kingston Shopping Centre
Campaign Report - Kingston Shopping Centre
Date : 24th Nov 2001, Source : SOE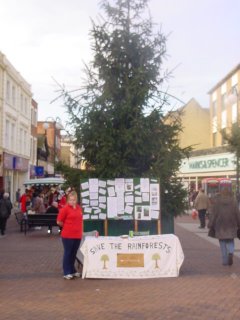 Save this Tree!
Round Two. A call for hands-on deck rang short as two of our shipmates were unable to make our date in Surrey. With Autumn in 'fall' swing and the trees yielding beautiful colours of red, orange and yellows, we set out on a cold morning for Kingston. After a late night (again) we were almost considering giving it a miss, but as we headed to our destination, we asked for a sign and we saw estate agent signs for "Forest" ! With our hearts warmed, we knew what we needed to do. We parked in Eden Street car park on the 10th floor and although happy to be close to our position, we laughed even more when we realised we wouldn't fit in the lift! So with two chairs, a table, the boards and our trusty bag, we literally fell down the stairs into the crowds, weaving through with our tools in hand to our pitch.
We had a prime position in Clarence Street - in front of the Christmas Tree. Without Noddy's support, it was a muted affair as Denise and myself called out to passers-by to sign the petition. After the clouds cleared and the day got colder, we soon had our first signees.
Warmed by tea and coffee, it was back to the task in hand. Clarence Street was thronging with musicians from saxophones, violins and latin music. The atmosphere was electric.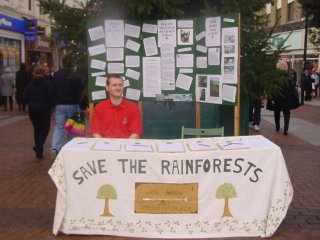 It really is cold!
We met some lovely people; some had visited Costa Rica, the rainforests in Australia, a son travelling through the forests in New Zealand and some lovely elderly people.
In the end, we finished after 4 1/2 hours as the bitter winds rolled in and the crowds dissipated. Then it was the walk up the stairs...doh!
We had received
115
signatures and we would like to thank the people of Kingston for their generosity and goodwill for signing and allowing us to visit - thank you!
We aim to start campaigning again in February when the weather gets warmer...brrrrrr...so don't forget to tell your friends to sign online and we will see you soon !! Bye!
Mark.
---
Document last updated on Wednesday 01 August 2018

Copyright Save Our Earth © 2001-2018
Copyright of articles, information and news remains that of the owner, and permission must be obtained.

---