Environmental, Campaign & Website News
> Campaign Report - Queensmere Shopping Centre in Slough
Campaign Report - Queensmere Shopping Centre in Slough
Date : 27th Oct 2001, Source : SOE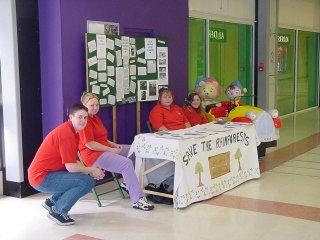 Our pitch with new team-member Noddy!
Our first campaign day went well! Denise and myself had a late night watching ghostly happenings on television and after four hours sleep, we struggled into our overloaded car with Cath and sped down the M4 to Slough, Berkshire. We met up with Tracey and her daughter Sam, and proceeded to our appointed pitch. Now adorned with red polo shirts decorated by Denise, we set out to accomplish our task with clipboards in hand but after suitably refreshed with tea and coffee.
Not long after, we were asked to move as we were 'poaching' customers! After a discussion with Security, we moved - next to Noddy and his moving car! With not being able to approach people, we were disheartened. A quick trip to Woolworths brought some inspiration in the form of chocolate coins and jelly beans to 'bribe' our signators! We called out discretly to passers-by to prevent Security paying us a visit but after a smoke break, Tracey informed us that Security had passed by and said it was alright for us to shout our battle cries. Poor Slough didn't know what hit them (and Noddy for that matter) as we shouted 'Sign our petition to help save the Rainforests' !!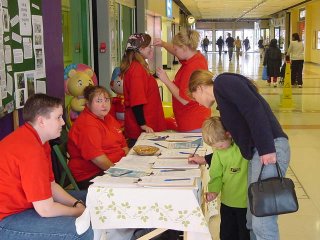 Signing to save the Earth
Soon droves of people flocked to our humble setup - personally, I think Noddy had something to do with it - his bright coloured car and uplifting melody of "Hi, I'm Noddy - come and meet my friends!". Our spirits were kept high by laughter, banter and Halloween face paint. At one stage, we even goaded Noddy into giving free rides for kids so we could get the parents to sign.
After five hours and with the crowds slipping away, Denise rallied them again with a last ditch attempt of "This is your last chance to save the last tree". When we finished, we had a total of
195
signatures. Then it was off home for a cup of tea and much needed shuteye.
We would like to thank Queensmere Shopping Centre, the people of Slough and Noddy for your sterling efforts in supporting our campaign. Bye!
Mark.
---
Document last updated on Wednesday 01 August 2018

Copyright Save Our Earth © 2001-2019
Copyright of articles, information and news remains that of the owner, and permission must be obtained.

---