Information : The Student, The Nun & The Amazon
Articles, Poems & Information
> The Student, The Nun & The Amazon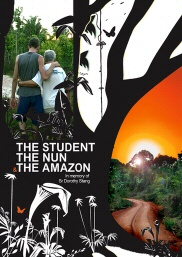 The Student, The Nun and The Amazon is a thought-provoking film that documents what it is like to be on the frontline in the fight against Rainforest deforestation.
Whilst filming in southern Brazil in 2003, Sam Clements and James Newton heard about a crusading American Nun who was fighting against deforestation and campaigning for the indigenous people's rights. Her name was Sister Dorothy Stang.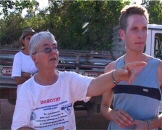 Sam wrote to Dorothy who responded by inviting them to meet her. They make the long and arduous journey by boat, by car - always in secret where ever they go, for the situation was dangerous to say the least. This film tells their story of the journey and their meeting with Dorothy.
It is a close-up account of the dangerous situation that exists in the Amazon, the tireless enthusiasm of a selfless American Nun who fought for so much. It is a testament of modern times, a David and Goliath struggle, with the odds stacked firmly in favour for Goliath. It reveals the hardships, the struggles that the local people are facing at the hands of the illegal loggers whose only desire is to make as much money as possible, to supply the World's industries with wood, without care to the Environment or anyone who stands up to them.
This is a film that touched us deeply and strengthened our resolve to fight for the Earth, and in quite possibly, her last interview, Dorothy's words will resonate through us as we continue to campaign against Rainforest deforestation.
Sam's future plans include an education pack for schools and is helping the nuns of Sr Dorothy's sisterhood in Ohio, USA do the same.
The Student, The Nun & The Amazon
can be ordered from Sam and James' website at
www.studentnunamazon.co.uk
.
---
Document last updated on Wednesday 01 August 2018

Copyright Save Our Earth © 2001-2019
Copyright of articles, information and news remains that of the owner, and permission must be obtained.

---