Information : Profile: Paul Coleman
Articles, Poems & Information
> Profile: Paul Coleman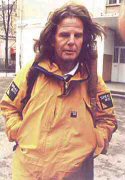 We received an email from a lady letting us know of this intrepid adventurer. The gentleman in question is Paul Coleman, the Earthwalker. Not many of you may have heard of Paul, indeed we hadn't until now.
In 1988, Paul became disenchanted with his life as he saw the destruction of the Amazon. He went on a solitary trip to Iceland and realised what he needed to do. He would walk the world to draw attention to the impact of war on humanity and the Earth. He wanted to encourage the replanting of trees by those he touched, and he planned to plant at least 100 million trees; a tree for every man, woman and child killed in the wars of the last century. Paul has walked in the Amazon, from Ontario (Canada) to Rio De Janeiro, from San Francisco to Sarajevo, and now he is walking from England to China - a 15,000 mile walk. If there is one thing you can do, then either help Paul with his trip by making a donation, or helping him with some equipment, or even send him a message of support.
Paul isn't walking for himself, he is walking for all of us, for peace and for the Earth
Visit his website at
www.earthwalker.com
---
Document last updated on Wednesday 01 August 2018

Copyright Save Our Earth © 2001-2019
Copyright of articles, information and news remains that of the owner, and permission must be obtained.

---