Information : Stop Junk Mail
Articles, Poems & Information
> Stop Junk Mail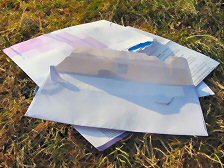 Are you sick and tired of receiving mail through the post, in which you have no interest and did not ask for?

Do you find yourself being offered credit card after credit card, and loan after loan when you did not ask for them?

Do you find that out of 10 letters delivered to you, nine are junk mail?


Do you....
thats enough of that!
It is the scourge of every home in the world: receiving junk mail. SPAM (unsolicited email messages) is bad enough but junk mail must account for the largest percentage of paper use in the world. The companies that send it state that they wouldn't be able to operate or advertise their business if they didn't use it. This may sound like a fair comment, but with the Internet and television, it is possible to overcome this.
So how do you stop it? Throw it in the rubbish bin? No. This means that the company will send you more.
What follows is a list of tips that we hope you will add to, for ways to rid us of junk mail and protect the trees from this 20th century nuisance.
Ring up the company that sent you the junk mail and ask for your name and address to be removed from their mailing list. Some state that it may take up to one month for this to happen. Note: Only ring them up if they use a free telephone number!


Use the prepaid envelope that the company sent and send the contents back asking to be taken off their mailing list. This way the company pays the postage and if enough people do it, they will soon think of alternative methods of advertising.


Write on the envelope "Return to Sender, Please remove from mailing list" is another way.


Change the spelling of your name when applying to a company for details. This way if you receive any mail from another company, complain to the original that they are selling your details!


Always check the small print on forms. Some forms ask you to tick the box to receive offers from the companies affliates and some ask you to tick to not receive details.


Although we haven't the telephone number, there is a company that removes your details from mailing lists in the same way that stops those 'junk telephone calls'. We'll let you know when we find it.


In the UK, you can register with the
Mail Preference Service
. They will add your name and address to a list which is forwarded to companies and they delete you from their mailing lists. Its so simple, and you can register online!
Click the image to visit their website!
We hope you can add to this list and by all of us standing together, we can revolutionise the marketing industry to save paper and ultimately, save the trees.
---
Document last updated on Wednesday 01 August 2018

Copyright Save Our Earth © 2001-2019
Copyright of articles, information and news remains that of the owner, and permission must be obtained.

---