Campaign Action: Tell the World Bank to take responsbility for environmental damage
Submitted by
Save Our Earth
Started on
24/06/2006
Status:
OPEN
Signatures:
143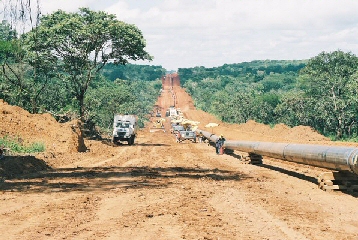 For years, since their inception in 1944, the World Bank has funded projects across the Earth, without regard to environmental protection. For example:
In 1981 the Bank lent Brazil US$445 million for the Northwest Brazil Integrated Development Programme to build 1500km of roads in the region of Rondonia which borders Bolivia. This allowed loggers and farmers to invade the forests and clear them for cultivation.

The World Bank loaned millions of dollars to CIB for logging in Pokola in Congo. CIB began to illegally log highly valued trees in the Ndoki national park. The same has happened to other forests in Guinea and Ivory Coast.

The Bank loaned $500 million to Indonesia to move several million people from the island of Java to the islands of Sumatra and New Guinea. Over 4% of the forest was felled to make way for the 'new' people and their farming methods - however countless more acres have fallen as the people move to new lands due to poor nutrients in the soil which have suffered monsoon erosion.

The Chad-Cameroon Pipeline, approved in 1999, was built by French, German and US companies with money from the World Bank to direct oil from Chad to the coast of Cameroon. The $3.6 billion project, owned by Exxon, Shell and Elf, was put through native/virgin rainforests without any regard to indigenous peoples, the ecosystems or to health and safety practices, and therefore without any environmental impact study - well, there was probably one but one which didn't raise any alarm bells!
Investigations by a friend have led to either no or incoherent responses from the World Bank, the US Treasury and Lafarge.
This is one small example of the pursuit of greed for profit without care for the environment.
Although we cannot change what has happened, and although it was rumoured the Bank has changed their lending practices,
we are calling on the World Bank to take responsibility for environmental damage caused by projects themselves, instead of the insurance companies, thereby mitigating the environmental impact and ensuring adequate safety measures (See Note 1) and excellent contruction methods are mantained. We are also asking for improved financial controls to be in place to prevent funds from being diverted (See Note 2) which are critical to improved safey and environmental protection.
Notes:
All notes have been provided by a friend of ours.
Substandard welding has been performed without the use of correct googles, just sun shades! The pipeline was rested on bricks instead of sand bags causing strain on already poor welds. The project had been operating for 18 months without oil spill response plans (which could potentially create a toxic lake in the forest) and critical safety apparatus.

President Idress Deby of Chad has already used 5 million dollars of World Bank funds to purchase arms and that was within the first few months of receiving the World Bank loan. The Chad president is fighting for his political life and will use any means possible, including oil revenues destined to tackle poverty in his country. The crisis in central Africa is being fueled by USA in their search for alternative oil from the Middle East.

Want to Sign?
---
Document last updated on Tuesday 30 August 2011

Copyright Save Our Earth © 2001-2018
Copyright of articles, information and news remains that of the owner, and permission must be obtained.

---