Campaign Action: Campaign for more protection for the nesting grounds of the Monarch Butterfly
Submitted by
Save Our Earth
Started on
16/03/2006
Status:
CLOSED
Signatures:
8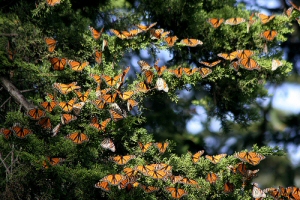 Image copyright Simon Phipps
With illegal logging continuing in the Mexican forests, the winter nesting grounds of the Monarch butterfly is under threat. In 2002, over 250 million butterflies died during a cold spell in the Winter - the reason was their nesting grounds had been decimated by illegal logging.
The Mexican Government has taken steps to protect these grounds by forming a team of 17 rangers to cover over 56,000 hectares and to prevent illegal logging. Unfortunately, deforestation continues.
Please sign this action to ask the Mexican president to expand this team to over several hundred to protect the national park and to protect one of Nature's most beautiful of creatures.
To:
President Vicente Fox
Palacio Nacional
Patio de Honor
Piso 1
Col. Centro
06067
Mexico City DF
Mexico

Email:
precisa@presidencia.gob.mx


Want to Sign?
---
Document last updated on Tuesday 30 August 2011

Copyright Save Our Earth © 2001-2018
Copyright of articles, information and news remains that of the owner, and permission must be obtained.

---